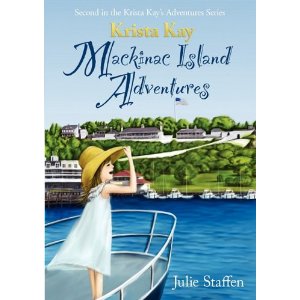 What do you want to be when you grow up?
We often ask kids this question, and the answers can vary from firefighters to veterinarians to professional athletes – even princesses too! Some kids don't have an answer. They want to know what their options are.
What sorts of careers do people have? What can I be if I don't get to be a princess? 
Julie Staffen writes her Krista Kay book series to educate kids about possible careers. She uses her knowledge and the experience of working in a variety of job fields to help others find a job that they'd like to do.
Julie lives in Michigan with her husband and son, and is a member of Society of Children's Book Authors and Illustrators! Please welcome Julie to the Spotlight!
MCA: Welcome to the spotlight Julie! Can you please tell us about what motivated you to create the Krista Kay series?
Julie: After working in human resources and college admissions for several years I was surprised at the number of adults who did not know what they wanted to be when they grew up. I tried to think of a way I could help them, but I realized it needed to begin by educating our children.
That's when the character of Krista Kay popped into my head. Within just a few minutes I had the entire story in my mind and I was ready to get it down on paper. Young readers will learn about people in different careers as they read Krista Kay's Adventures.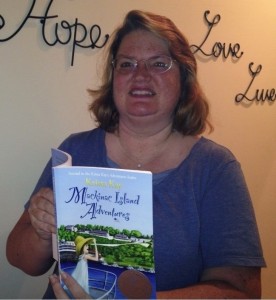 MCA: What an excellent idea! Now that you have an award-winning book, what are your goals for this next year?
Julie: After winning the Mom's Choice Award® I had the confidence to really promote my book. I immediately began to sign up to attend book festivals and other events as a presenter and vendor. I am so excited about doing a book signing.
I am also more driven than ever before to complete the next book. I want to travel all over the United States, working on promotions and book signings, and I feel that this is possible now. The possibilities seem endless!
 MCA: That is wonderful! Do you have any ideas on more specific ways your Mom's Choice Award® will help you reach that next milestone?
Julie: The Mom's Choice Award® has helped me open up new avenues for promotions and events. I have already gained entrance into venues by simply mentioning that I am an award winning author, which I did not have access to before the recognition.
I plan to increase my personal appearances with school visits, library activities, and book signings. I feel that the recognition from Mom's Choice Awards® opened up these avenues for me. I always dreamed of attending a large event such as Book Expo America, and with my Mom's Choice Awards®, this dream can come true in 2013. Finally, I want to increase sales and reach out to a larger audience of young readers.
 MCA: Can you share with us what you learned about yourself as an writer in creating your award-winning book?
Julie: I never thought of myself as a creative person – I have a business mind – but the creativity was hiding inside me all this time. Through this process, I learned that I love telling stories and speaking to young people and helping them dream. I also discovered what I want to be when I grow up: a story teller and writer. This process has allowed me to bring every aspect of my personality to light with my creative side, combined as well as my business sense. I have a unique education with an undergrad degree in English and an MBA, my new life as a writer allows me to use everything I learned in school and in life.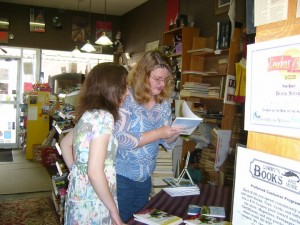 MCA: Since launching your book, what has been your most rewarding experience in promoting or sharing it with the public? Do you have a favorite memory?
Julie: I really love hearing from the kids who read my books. It's such a blessing to receive a letter or email from a young person sharing what parts of the book they enjoyed.
Recently, I had a book signing and two young girls who had already read the books attended to get their copies signed. They couldn't wait for the next book, and it was really fun to share future story lines with them.
MCA: As a new honoree, do you have any questions you'd like some of the "old hands" to answer for you?
Julie: What was the smartest thing you did as a Mom's Choice Awards honoree to promote your products?
MCA: Talk back to us, MCA Honorees! Thanks for sharing your story with us today, Julie!

Krista Kay Mackinac Island Adventures
by Julie Staffen
Juvenile Level 2
Silver – Fiction
Contact, Connect, and Network with Julie
The Alumni Spotlight is a periodic feature on the official Mom's Choice Awards® blog. It is part of our ongoing effort to "shine the spotlight" on you and your award-winning, family-friendly products, services, and media.