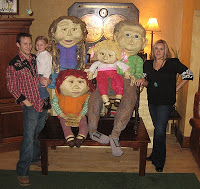 Mix the joy of being a mom, the imagination of a child, the encouragement of family, and the creativity of a skilled artist, and what do you get? Snickeyfritz … a life-sized family constructed with masking tape! Andrea Skyberg is a classically trained artist who transformed a story she wrote in high school into a children's picture book.
Andrea describes herself as a practicing artist and as a curator of contemporary art. She received her Bachelor of Fine Arts from the Maryland Institute, College of Art, and following graduation was awarded a Fulbright Fellowship to travel to Nigeria. After returning from Nigeria, she continued her education at the University of Wisconsin-Milwaukee, where she received a Master's in Fine Art and Museum Studies.
Born in Minnesota, Andrea now resides in Wisconsin, with her husband, daughter, her dog, and of course, the Snickeyfritz! Please welcome Andrea to our alumni spotlight for 2010!
MCA: Can you please tell us about the inspiration for Snickeyfritz?
Andrea: The story of Snickeyfritz

, which is a word invented by my Grampa, was originally created as a short story in high school. I always knew I wanted the final form of the story to exist as a children's picture book and over the last few years I was working to find the best images to fit the story. After the birth of my daughter, I was inspired while playing with her to create the life-size characters out of masking tape.




MCA: What are your goals for your Snickeyfritz in the next year?
Andrea: I enjoy visiting schools and inspiring the students' love of reading and working to promote creative thinking. I hope to continue visiting schools around the country and offering my school assembly presentations, art workshops, writing workshops and Artist in Residency programs. Helping children and adults exercise their creative muscle is what Snickeyfritz is all about!
MCA: If someone gave you air time for a 15-second commercial, how would you entice people to try Snickeyfritz?
Andrea: It's a HOOT, it's a HOLLER! It's the next best thing since sliced bread! It's Snickyfritz! The characters of this brand new children's book are life-sized created out of masking tape! Snickeyfritz isn't just some fiddle-faddle; it is a story of little twerps and a wise old goat, and it is filled with delightful chitter chatter. In this tale for both whippersnappers and old-timers, Snickeyfritz combines bygone and contemporary language to appeal to readers of all ages. It is a doozy of a story that inspires children to use their imagination to create their own fun.
MCA: You started with an idea and now have the successful, award-winning book, Snickeyfritz. Looking back on your journey, what was the easiest part? The hardest? What surprised you the most?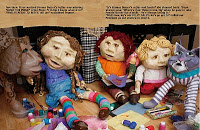 Andrea: The easiest part was creating Snickeyfritz, although with the total process taking over a year and a half to finish, it wasn't always the smoothest. Being able to work on the book with my husband and daughter was one of the best years of my life. I will always cherish the memories of photographing scenes in the book into the wee hours of the night after putting our daughter to bed. Sweating through the hot summer nights as we worked to perfect each shot, I was happy to be creating something meaningful with the people I love.
The hardest part of the process is sharing the book. Don't get me wrong, it's definitely fun to share the book, but figuring out how to do that is pretty challenging at times. Luckily I remember that the greatest success of the book is in the fact that it has been created.
MCA: Since launching Snickeyfritz, what has been your most rewarding experience in promoting or sharing it with the public? Do you have a favorite memory?
Andrea: In addition to visiting schools and community organizations such as the Girl Scouts or the YMCA, the most rewarding experience has been getting to dedicate the book to my grandparents and having them join me at one of my book signings in Minnesota.
My Grampa is now 92 years old and my Grandma is 89. Their influence is scattered throughout the pages of the book and I'm so happy to have them in my life. Also, I am ecstatic when my husband and daughter get to join me during my book signings, school visits, and readings. Having that extra support is the cherry on top of a very delicious sundae!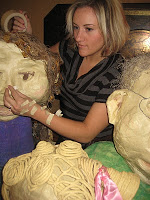 MCA: Could you please tell us why you chose the Mom's Choice Awards® program in seeking recognition for Snickeyfritz?
Andrea: Other than children, moms and dads are my main audience. I believe if parents know that Snickeyfritz has been recognized as having high enough quality to win a Mom's Choice Award®, they will want a closer look. Also, the wonderful and diverse group of judges that selected the winners of the Mom's Choice Awards were inspiring and being able to share my book with each of them was definitely worth entering.
MCA: What does it mean to you to be a Mom's Choice Awards® alumnus?
Andrea: I am so excited that the book was recognized by Mom's Choice Awards! It is wonderful that a group of judges with such influence and an invested interest in childrens' well being determined that my book, Snickeyfritz is a great product for families, and winning in the category of imagination makes it that much better!
MCA: What did you learn about yourself in the process of creating your award-winning book, Snickeyfritz?
Andrea: I am happiest when I am with my family and creating art that inspires children and adults to value creative thinking and use their imaginations. I think that creative thinking is one of the greatest gifts the human race processes and I get really excited when I see people exercising it.
MCA: Would you recommend the Mom's Choice Awards® to other entrepreneurs? If so, why?
Andrea: Definitely, it is a wonderful award to be honored with. The opportunity to have the prominent and inspiring judges review your product is a blessing in itself.
MCA: How have you/your company benefited by being a Mom's Choice Awards® honoree? Do you have any tangible examples?
Andrea: Besides having very proud relatives who get to share in the joy that being recognized as a Mom's Choice honoree brings, I think that this award will continue to benefit the book. Just as Snickeyfritz will live on, so will it's Mom's Choice Award, as it isn't associated with a particular year, but rather is a overall endorsement award.
I know when I am considering products to share with my daughter, I want to know that they are appropriate and interesting, so in that regard, having a Mom's Choice Award would certainly motivate me to investigate the product more. Knowing that a product is given the seal of approval by Moms makes all the difference in the world!
Mom's Choice Awards
®
Honors
2010 Silver Recipient, Children's Picture book – Imagine It! Category



Social Media Contacts for Andrea Skyberg